Better Basics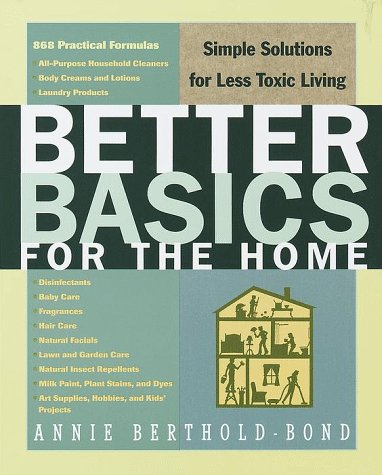 Amazon.com Review
These days, more and more people are saying no to "better living through chemistry" and yes to a lifestyle that is less toxic and more environmentally friendly. This trend toward a more natural lifestyle has become something of a crusade for Annie Berthold-Bond, author of Better Basics for the Home. After developing hypersensitivity to even very low concentrations of chemicals, Berthold-Bond was forced to rid her life of as many toxins as possible. "It wasn't until I had to be away from chemicals that I began to realize how many we lived with. The extent of the contamination is startling–from hair spray and floor wax to dandelion killers and plastic shower curtains and other products that line our hardware stores and supermarket shelves."
This book represents the culmination of her search for a more sustainable lifestyle. Taking her cue from an earlier time, Berthold-Bond, former editor in chief of Green Alternatives for Health and Environment, offers more than 800 simple and practical alternatives to common household toxins, covering everything from skin care to gardening. And the good news is that adopting her suggestions and formulas isn't hard at all. "Mixing up face creams or wood stain isn't much different than cleaning the windows with vinegar, soap, and water instead of using Brand Name X, or making a cake with flour, eggs and milk instead of buying a mix," see asserts. "With a few simple staples we can clean our houses, wash our hair, rid the dog's bed of fleas, and do many other things as well." If you have your doubts, here is her formula for metal polish:
3 teaspoons salt, 1 tablespoon flour, and enough white distilled vinegar to make a paste. Scoop the paste onto a clean sponge, and polish the metal clean. Rinse with hot water and buff dry.
Sure, these days it's literally impossible to lead a life that is completely toxin-free. But you can significantly reduce your exposure, and picking up a copy Better Basics for the Home is a great way to get started.