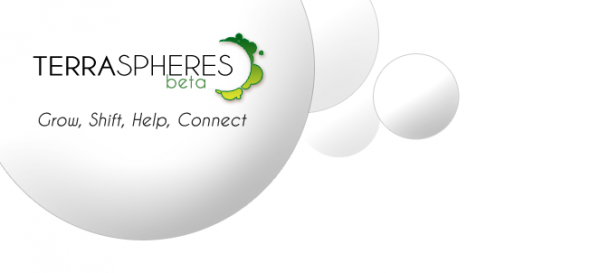 www.terraspheres.com
WHAT: We are soft-launching TerraSpheres as the web's newest resource for all things green, hopeful, and evolutionary. The team here is working to create a content portal that will be a dynamic contribution to your evolution as a human being, a concerned citizen, and change-maker.
Over the next few months we will be working diligently behind the scenes to roll out some exciting features to support and cultivate global and local community. We're talking about realtime online community gathering spaces: opened up, and hosted with the focused intention to bring communities together in meditation, prayer, and collaboration. We are building a framework to help co-create a shift in global consciousness.
In the interest of creating an economically sustainable business, while simultaneously catalyzing the evolution of society, we are also building out a new platform for e-commerce. This will be an online resource of staff and user vetted products created from and in support of the highest standards of sustainability, fair trade, and health.
To start, the site will comprise a rich and expanding catalog of blogs, discussion forums, and downloadable guides.
WHY: We believe that the biggest need on the planet right now is for humans to embark on rapid personal growth and to be in service to the planet and the global community.
WHO: TerraSpheres is led by a small, creative team that has a high level of expertise in the green living, social media, Internet technology, and global transformation movement. Meet the team (link).
Terra (ter-uh) -noun: earth; land. "The earth is man's ultimate haven, our blessed terra firma." Gilbert Adair, British author and critic.
Spheres (sfeer) -noun, verb: …a place or an environment within which a person or thing exists; a field of activity or operation; a particular social world or walk of life. "Nature is an infinite sphere of which the center is everywhere and the circumference nowhere." – Blaise Pascal