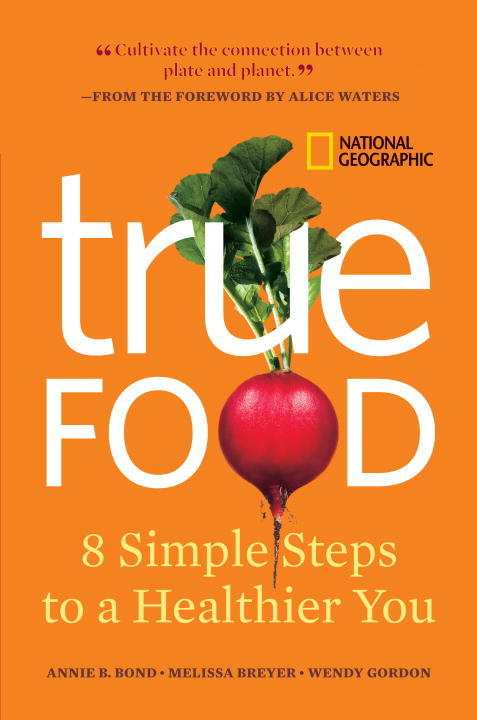 True Food was awarded Gourmand's "Best in the World" award in the Health and Nutrition Cookbook category, 2010! The award was announced at the Paris Food Festival in early March!
Product Description
This inviting, encouraging how-to turns the ideals of today's food revolution into eight practical steps to a healthier, more natural diet. It's a workable blueprint for enlightening your kitchen in ways that are good for you, your family, your pocketbook—and the environment. Friendly and fun, featuring lighthearted design and lively writing, the book shows how preparing good food with simple, natural ingredients can actually cost less than reaching for commercially produced and processed alternatives. You'll discover fresh, seasonal recipes and new ways to go shopping, plus practical advice on how to establish priorities among the many rules that sometimes seem to contradict each other. How can I eat fresh fruit in the middle of winter? If favor local produce, do I have to stop eating bananas? Full of quick, innovative solutions (and a few old-fashioned ones, too), True Food is a complete vision of how to select, prepare, serve, store, and enjoy the planet's bounteous harvest.
The eight steps introduce and implement a short list of powerful ideas, from "Eat Local Food" to "Green Your Kitchen." Every piece of advice is backed up by solid research and personal experience. Stories of real people who have committed to the lifestyle offer amusing tales of acquiring new habits and inspiring portraits of people who quietly live with a new awareness. Special sidebars called "Budget Benefits" highlight how following these eight simple steps can actually save you money—and at the same time help you nourish better and greener attitudes everywhere.

About the Authors
Annie B. Bond is a leading authority on the connections between the environment and personal health and well-being and was recently labeled "the foremost expert in green living" by Body & Soul magazine. She writes blogs on her site greenchicafe.com and HuffingtonPost.com, and has written four books.
Melissa Breyer is senior editor of Healthy and Green Living and writes about food. She creates new recipes that are posted daily to Care2.com, a natural lifestyles social network and website with 10 million members.
Wendy Gordon founder of National Geographic's Green Guide, was honored as one of Glamour magazine's 75 Women Environmental Leaders in 2009. She serves as board chair of Trickle Up, an anti-poverty organization; as vice chair of the Rainforest Alliance; and as trustee of the Rockefeller Brothers Fund and the Rockefeller Family Fund.